Apprentice to Architect: Finding one's Voice
In conversation with Girish Doshi
Smita Dalvi
Tekton
Volume 4, Issue 2, September 2017
pp. 94 – 105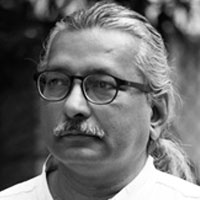 Girish Doshi is the principal at Navakar Architects, Pune and also a much loved teacher of architecture. He graduated from BKPS School of Architecture, Pune and apprenticed with Balkrishna Doshi at Sangath for seven years. He began his independent practice in 1987, which is responsible for a wide range of projects- private houses, schools and institutions and public buildings. He is a recipient of the J.K. Cement Architect of the Year Award in 1994 and AESA- Kumar Architect of the Year Award in 1995.
He recently put together an exhibition of his work titled, "Construction of Space and Place" portraying a journey of a practice
for 30 years. It emerges out of a simple realisation that architecture is not a simple manipulation of forms and materials, but is about construction of space and place; and in this, light plays a decisive role in design. In all this, there is a conviction that the aesthetic truth of these ideas will in some measure contribute toward a dignifying human existence. The exhibition was shown as a public display at MES Pillai College of Architecture, Navi Mumbai.
Girish Doshi in his three decades of acclaimed practice has to his credit a niche body of work, at the heart of which is a negotiation between traditional and modern forms and values. He describes his work as "Traditionally Contemporary". He is known for innovations in use of materials and construction technology to achieve economy and delight in his buildings. His influences are firmly modernist, they manifest in his works as a pragmatic way to achieve an end- to
mitigate harsh sun or rain, to bring in light or to meet his client's budget. Doshi is not a man of many words as mostly he prefers his work to speak and express itself. In this conversation, he opens up about his life as a student, an apprentice and an architect trying to shape his client's dreams. We get a glimpse of the architect as a person whose life story is not removed from his work.
DALVI
Tell us something about your formative years, your experiences of working with Balkrishna Doshi and Anant Raje.
DOSHI
After joining Architecture in Pune Government School (now BKPS) in 1974, I failed in my very first year in the subject of theory of structure- just by two marks! If I look back now, it became an opportunity more than a failure as I found "Oeuvre Complete" – a set of books containing complete works of Le Corbusier. The impact of his work, the plans and sections was so great, even with my limited knowledge of English, it completely amazed me.
The next five years in the school passed like a dream, and then by chance I happened to see Balkrishna Doshi at Ahmedabad NASA.1 I was intrigued by his attire and personality. Someone suggested I visit his studio 'Sangath' in the same city, which was about to be completed. The partially underground building with white china mosaic vaulted roof and red oxide flooring possessed me. Over the years, this building has become quite well-known but for me at that time, I found my guru whose guru was Le Corbusier. After completing my studies at Pune, very next day I boarded a train to Ahmedabad with a singular aim of working with
(contd…)
---