Rahul Paul and Mohan Rao
Tekton
Volume 3, Issue 2, September 2016
pp. 08 – 21
Rahul Paul, a graduate from Architectural Association, London, MA (Landscape Urbanism), is a Senior Associate with Integrated Design (INDE), Bangalore, where he is involved in developing landscape infrastructure strategies for large scale urban projects. Rahul has participated in several international and national design workshops and has presented research papers and articles at national and international conferences. He also works in editorial capacity for journals on issues of Landscape Urbanism, Infrastructure Urbanism and Urban Planning.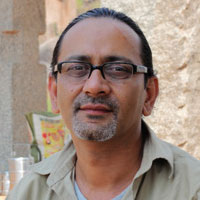 Mohan S. Rao, an Environmental Designer and Landscape Architect, is the principal designer of the leading multi-disciplinary consultancy practice, Integrated Design (INDE), Bangalore. He is involved in research and design programs in several countries, and done notable work in passive water management and conservation strategies in South East Asia. He is the recipient of 2010 IFLA- President's Award for the Asia Pacific Region, and the Award of Distinction in the UNESCO Asia-Pacific Awards for Cultural Heritage Conservation programme for his work in Hampi.
mohaninde@gmail.com / indeinde@gmail.com
ABSTRACT
The notion of water in its tangible forms – rivers, lakes, coastlines – as a primary structuring element of urban patterns has been well established. This paper investigates the role of water derived from ecological sensitivity as the primary structure governing urban and city systems. The paper investigates the structuring of the ancient city of Vijayanagar (present day Hampi) in India and a few other traditional examples, based on the parameters and understanding of the principles of water resource management. Through this diagram of study, the concept of Landscape Urbanism – integrating the modes and operations of landscape design into the domain of urbanism, is discussed as an indigenous process in time and not merely as a new idea developed in the late 20th century, a better understanding of which is essential for survival strategy in a rapidly urbanising condition.
KEY WORDS:
Water, Hampi, Sustainable Resource Management, Urbanisation, Landscape Urbanism
---