Case Studies of Hope
Richa Sharma
We are midways in 2014 and there has been already much anxiety, anticipation and change in the country. At a time when urban India has woken up to its concerns and hopes, it is obvious that cities play a pivotal role as arenas of action and agendas of discussion. 'Transforming Our Cities: Postcards of Change' written by Dr. Isher Judge Ahluwalia and launched in early 2014 is a befitting appraisal of our cities and towns that aptly reflects this prevalent national sentiment.
Dr. Ahluwalia has been interested in urbanisation since 2008, when she chaired a High Powered Expert Committee on Urban Infrastructure and Services set up by the Ministry of Urban Development and the Ministry of Housing and Poverty Alleviation, Government of India. Incidentally, the JNNURM (Jawaharlal Nehru National Urban Renewal Mission) launched in December 2005 was also picking up momentum around 2007-08. A newly triggered fervour backed by the Committee's agenda provoked the author to inquire into the real state of affairs of our cities. While most of them were giving way under inadequate infrastructure and weak governance systems, some, however still, showed the way forward. Over forty cases were first published in the Indian Express and the Financial Express under Dr. Ahluwalia's monthly column, 'Postcards of Change' that started in January 2010. 'Transforming Our Cities' is a true account of thirty eight of such success stories in various domains of urban infrastructure, governance and service delivery. The book carries an updated version of the documentaries to ensure the continued sustenance of what had been accomplished.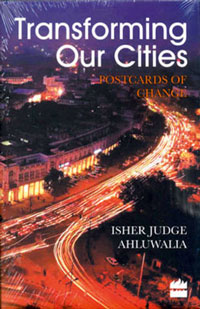 Transforming Our Cities:
Postcards of Change
Author:
Dr. Isher Judge Ahluwalia
Copyright:
Express Book Series
Publisher:
Harper Collins
Price:
Rs. 599/-
'Transforming Our Cities' is clearly laid out in distinct sections. The prelude has a Foreword by Dr. Manmohan Singh, former Prime Minister of India, Editor's note by Shekhar Gupta, the then Editor-in-Chief, The Indian Express Group and a Preface by the author herself. Dr. Ahluwalia's detailed Introduction follows the initial segment and sets the tone for the book. From tracing her personal journey through the cities of Indore, Calcutta and Delhi captured as fond memories and experiences of urban living, she goes on to discuss the macro picture of urbanization in India. Our cities have evolved both for the good or bad over passing times. However, many of them lie in a state of utmost despair, lacking basic amenities; and the apathy of urban governance and essential service delivery is not unknown. Given the fact that a majority of the country's Gross Domestic Product (GDP) is contributed by the non-agricultural sector (constituted mainly of the industry and service sectors), it goes without doubt that cities will have to be drivers of future growth and development. Constantly increasing urban population further reinforces the same. It thus becomes imperative to improve the liveability of our cities. The author deliberates on structural reformations, embedded rural-urban divide, existing political and administrative frameworks and JNNURM as factors affecting urban machinery and possible interventions to improve the failing condition of our urban areas.
The main content of the book is divided into six aspects covering Planning, Public Service Delivery & e-Governance, Water, Wastewater, Solid Waste and Mobility & Transportation as main areas of discourse. Each section comprises of an introduction followed by a description of related cases. These are "…stories of innovation and enterprise that have led to an improvement in governance and the quality of life in these cities. Human leadership stands out in each case, but the individual case studies also highlight the role of the enabling government and the leadership provided by the government of India in general and the catalytic role of JNNURM."
Dr. Isher Judge Ahluwalia's background as an Economist brings in a meticulous and holistic insight into the subject. In a way, she presents a fresh and non-judgemental examination of the case studies, allowed by her disassociation with urbanization directly. 'Transforming Our Cities' is another valuable addition to her expansive research contributions in the fields of economic growth, policy and reforms, productivity, urban planning and development. Being awarded the Padma Bhushan; India's third highest civilian award in 2009 is only an added testimony to her involvement with education and literature.
On the whole, the reader subtly discerns two broad areas of discussion. The first establishes a case for urbanization as an inevitable mega phenomenon for national growth and development. Urgent intervention in the existing urban crisis has never been more pressing than it is now. The author believes and reinforces the strong need to improve and embrace both existing and new cities. The second is an account of the optimistic reality, i.e., the case studies. It is hopeful and propagates that, where there is a will, there is a way. We certainly want to see more of these happening and the good news is that most of this is possible! Most rightly put by the author -"…these success stories may be few and far between, and much remains to be done…"
The author is unbiased and versatile in her choice of topics that straddle the length and breadth of India. From the states of Karnataka, Gujarat, Tamil Nadu, to mega cities of Delhi, Hyderabad, Bangalore, to the likes of Navi Mumbai, Pune, Ahmedabad, Surat and to towns like Pammal and many more; the entire hierarchy proves that no story is too long or short and that there is something to learn from everyone. The book is definitely relevant to a wide spectrum of disciplines relating economics, planning, growth and development.
Dr. Ahluwalia's ingenuity in the nature of research is commendable. Her lucid writing makes an otherwise technical report content widely accessible. The stories are simply narrated and are indeed heartening. For those interested in and concerned about the Indian urban scenario and dream of making it better, 'Transforming Our Cities' is well worth a keep in personal, professional and academic libraries.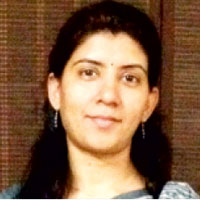 Richa Sharma is an Associate Professor and Program Coordinator of M. Arch. Urban Design course at Pillai College of Architecture, Navi Mumbai. She is a gold medalist Architect and Urban Designer from GCA, Lucknow and SPA, New Delhi respectively. She has recently received the 2013 MASA Best Teacher Award for related design discipline in Urban Design. Her research interests focus on public realm, urbanism and sustainable development. She has read and published papers at international platforms.
---